How Man Killed Biological Brother Over 13-Year-Old Girl
A Cameroonian man has killed his brother during a fight over a 13-year-old girl.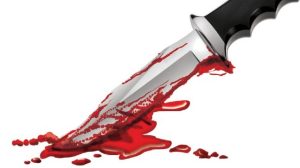 According to the local media MMI, the incident happened last weekend in the Mbagassina Subdivision of the Mbam and Kim Division in the Centre Region of Cameroon, but because there was no connectivity in the area, pictures and information did not spread until days later.
According to reports, the two brothers got into a violent fight over the young girl, who is only a teenager.
Gildas, a witness said, "One of the brothers of the dead claimed the girl was his girlfriend. He had been suspecting his brother had something to do with his girlfriend because of their closeness.
"Before the fight started, one of the brothers had searched for the girl to no avail only to pass by the road and meet her with the brother. So he questioned the girl about what she was doing there, and the brother tried to intervene and defend the girl.
"He now got enraged, got to the house, grabbed a machete, and attacked the brother. The brother hurriedly got a knife and retaliated. That's how he died."
The two brothers were both seriously hurt, but the sibling who had been stabbed in the chest passed away right afterward.
For Jobs, Nigeria and foreign Scholarships, Admissions CLICK HERE
Watch What's Trending!