Never heard of BRICS? Here's what it is and why more than 40 countries are keen to join
The BRICS summit has drawn some of the world's most powerful leaders to South Africa, and there are plans being pushed to expand the group and its geopolitical influence.
Chinese President Xi Jinping is at the Johannesburg meeting, leading the charge to increase the bloc, during only his second international trip this year.
His Russian counterpart Vladimir Putin appeared via video link.
According to South Africa, more than 40 countries have expressed interest in joining BRICS, and China is keen to add members to gain geopolitical influence during ongoing economic and security tensions with the US.
But the group is split on expansion, with heavyweights like Russia also keen to invite new members, while India and Brazil remain wary.
What is BRICS?
BRICS is the acronym for the countries in the group: Brazil, Russia, India, China and South Africa.
It was coined in 2001 by an economist to describe the fastest-growing states, which are predicted to collectively dominate the global economy by 2050.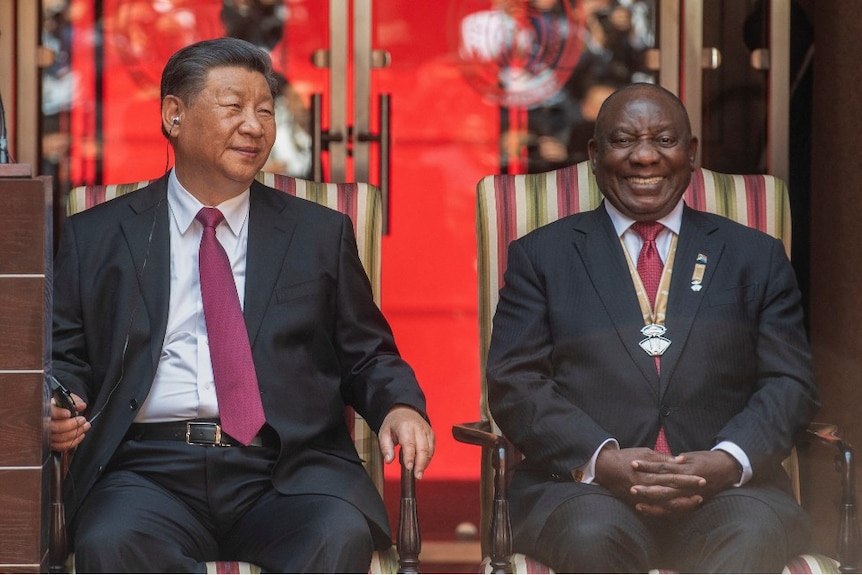 Meeting as BRIC at its first summit in 2009, the group focused on exerting more influence in global financial institutions and creating alternatives to established, Western-led international systems.
South Africa joined in 2010, adding the "S" to the acronym.
The countries have since leaned in to the name, and have formed a geopolitical and economic bloc.
Together, the group accounts for some 40 per cent of the world's population and a quarter of the global economy.
Gustavo de Carvalho from the South African Institute of International Affairs described BRICS as "a fairly loose group, it is not an alliance, it's not a trade bloc".
"But what it does do is that, despite the fact that these five countries are very different to one another, they often look for those minimum common denominators that bring them together, including those issues in relation to increasing their voice in global affairs,".
"These are emerging economies, economies that in their own rights are fairly relevant in their regions, and increasingly prominent globally."
At a BRICS business forum, China's President Xi Jinping said in remarks delivered delivered by Chinese Commerce Minister Wang Wentao that society was at "a critical juncture".
"The course of history will be shaped by the choices we make," he told the forum, which was held on the opening day of this year's summit.
What does BRICS want?
BRICS is often considered a counterweight to the Group of Seven (G7) democracies consisting of the US, Canada, France, the UK, Germany, Italy and Japan.
Primarily, it aims to challenge Western dominance in the global economic system.
This includes institutions such as the United Nations, World Trade Organization, International Monetary Fund and World Bank.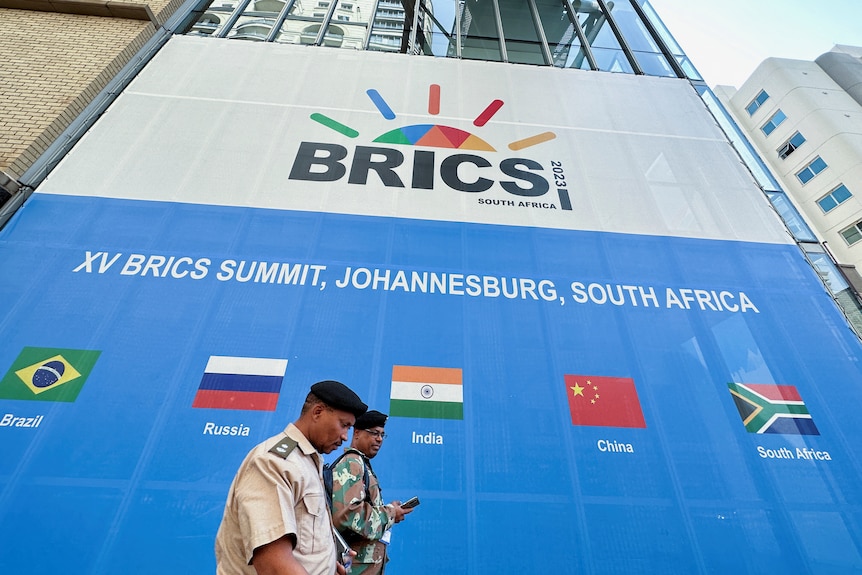 Ahead of this year's summit, South Africa's President Ramaphosa said: "An expanded BRICS will represent a diverse group of nations with different political systems that share a common desire to have a more balanced global order."
After its first summit in 2009, BRIC countries released a joint statement saying "emerging and developing economies must have a greater voice and representation in international financial institutions".
The group also called for reform of international financial institutions and a need for a stable and more diversified international monetary system.
These concerns have persisted for 15 years.
BRICS leaders have also floated the idea of creating a global common currency to move away from reliance on the US dollar.
South Africa has said that won't be discussed at this year's summit.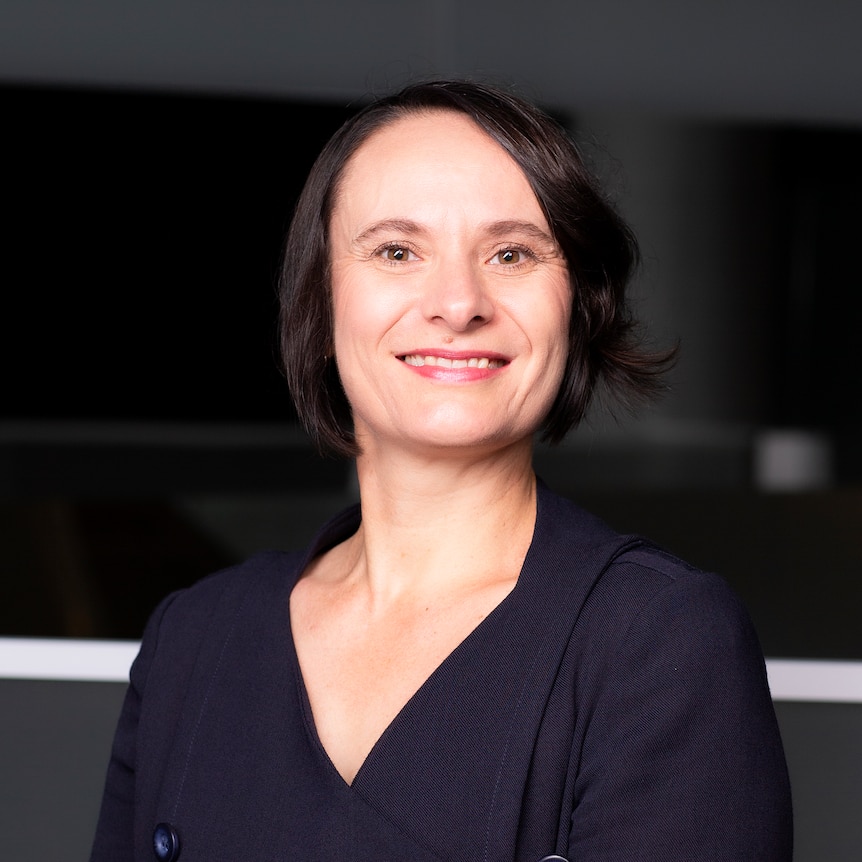 According to Susan Park, a professor of global governance at the University of Sydney, the rise of BRICS and the increase in countries' interest in joining the bloc highlights cracks in the Western-led international system.
"Many developing countries are for rules and order, but not necessarily ones that provide no room for their autonomy and preferences for different means for developing and interacting," she said.
In 2015, the group established the BRICS Development Bank, now the New Development Bank, as its flagship financial project to rival the International Monetary Fund and World Bank.
"Politically, the rise of the BRICS is a strong indicator of ongoing dissatisfaction with Western-dominated institutions," Professor Park said.
"That means that there are a number of states that are willing to align with states that have ongoing friction with the West."
Finding a consensus among the countries, which include the world's largest authoritarian state in China and the largest democracy in India depends very much on the topic.
"What we have seen is that BRICS often has avoided to engage with controversial issues internally," said Mr de Carvalho, who is an analyst on Africa's relationship with global powers and BRICS.
"It hasn't really operated as a platform for coordination of positions and policies."
Who wants to join and why?
Global tensions heightened by the war in Ukraine and the growing rivalry between China and the US have added urgency to strengthen the bloc, which has at times suffered from internal divisions and a lack of coherent vision.
Nearly two dozen countries have officially applied to join, meaning the group could need a new acronym very soon.
The countries interested include: Saudi Arabia, Indonesia, Egypt, Argentina, Iran, Cuba, and the Republic of Congo.
"All of those [countries] in a way are looking for more visibility and more influence in global affairs," Mr de Carvalho said.
According to Professor Park, joining BRICS would mean more choice for developing countries.
Because BRICS is "not that institutionalised", Professor Park said, countries of varying development levels, economies and foreign outlooks can engage with it.
Developing countries can also join BRICS' New Development Bank, instead of looking to the International Monetary Fund and World Bank.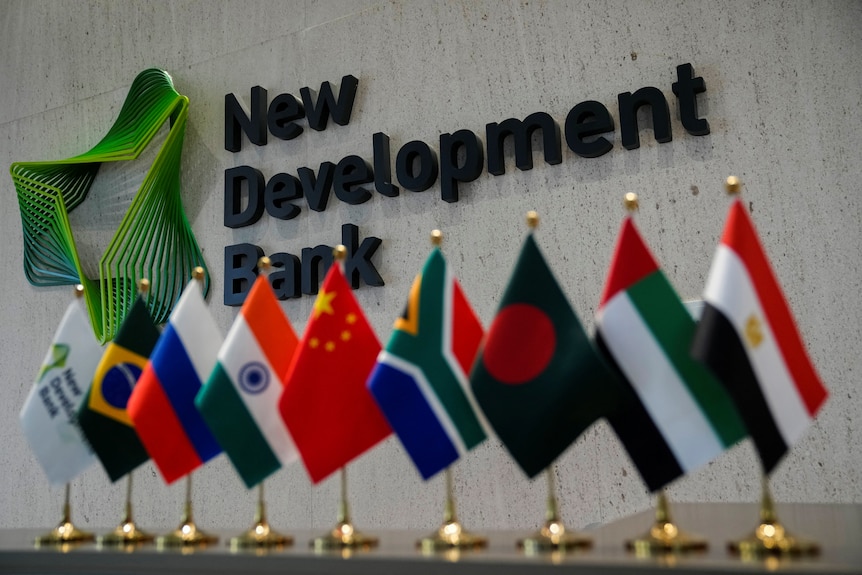 "This gives them more choice than if they remain dependent on the Western-led institutions," Professor Park said.
Membership is a major agenda item at the summit.
China's foreign ministry said it "welcomes more like-minded partners to join the 'BRICS family' at an early date".
"China may find it useful to be part of a smaller regrouping that seeks to rebalance the international system compared with the G7, which has even greater heterogeneity of members," Professor Park said.
With a GDP almost double of other member states combined and with Russia now heavily dependent on it, China is able to wield significant influence in BRICS.
Adding more countries to the bloc would enable Beijing an even bigger platform to push its agenda.
Expansion would also be beneficial for Russia, in the face of its diplomatic isolation over its war on Ukraine.
But Brazil is currently one of the main holdouts.
"An expansion could transform the bloc into something else," a Brazilian official, who asked not to be named, told Reuters.
"Brazil's position has been concerned with the cohesion of the group and the preservation of our space in a group of important countries."
India, which has strong ties with the US and the West, has similar fears to Brazil.
It's said to view an expansion of BRICS as potentially diluting its influence in the group, and pushing it into more of an anti-Western alliance.
"New Delhi suspects that if a 'swift' expansion were to happen, Beijing would then move to give the bloc an 'anti-Western' flavour," Ankit Tiwari from the Council for Strategic and Defence Research wrote in The Interpreter.
"For India, BRICS has been an important forum to seek its vision of a 'multipolar' world order.
"Equality between the members has been a fundamental characteristic of the bloc, and an expansion could threaten to disrupt this balance by pitting New Delhi against Beijing."
Earlier in August, an Indian government official said the country "has reservations about the expansion".
"If it has to happen, then it needs to happen through consensus," they said.
Of the candidates for expansion, Indonesia seems to be one of the strongest.
That's down to its regional power, growing role in the global economy, and lack of global controversies, according to BRICS watcher Oliver Stuenkel, a professor at the Getulio Vargas Foundation in Sao Paulo.
By contrast, countries like Iran, Venezuela, and Saudi Arabia would change the dynamics of the group.
Their inclusion could make it more difficult for countries like Brazil to retain their influence, Dr Stuenkel said.
Mr de Carvalho said there was no guarantee an expansion would make BRICS more influential, and some members are questioning the merits of broadening the group.
"We're already seeing some members like Brazil and India raising quite serious concerns about the pace and the format of the expansion," he said.
What about Russia's membership?
Russia remains a member, but its invasion of Ukraine has exposed further tensions between members.
Brazil's President Luiz Inácio Lula da Silva condemned the war earlier this year, despite previous president Jair Bolsonaro refusing to do so.
Most BRICS relations take a non-interference approach, which means the group can offer support during times of isolation and sanctions.
There were also questions surrounding Mr Putin's attendance at this week's meeting, as he is wanted under an international arrest warrant for alleged war crimes in Ukraine.
As South Africa is a member of the International Criminal Court, which has issued an arrest warrant for Mr Putin, it would be obliged to arrest him if he attended.
Russia is instead being represented in person by foreign minister Sergei Lavrov.
That didn't stop Mr Putin from having his say.
Mr Putin took multiple shots at the West in a prerecorded speech that was aired on giant screens as BRICS opened on Tuesday.
He railed against what he called "illegitimate sanctions" on his country and threatened to cut off Ukraine's grain exports permanently.
His 17-minute speech centred on the war in Ukraine and Russia's relationship with the West, even though South African officials had said East-West frictions should not dominate.
Mr Putin said the West was imposing an "illegitimate sanctions practice and illegal freezing of assets of sovereign states, which essentially amounts to them trampling upon all the basic norms and rules of free trade".
BRICS leaders were set to discuss a framework and criteria for admitting new countries at this week's meeting.
However, an Argentine government source involved in the country's negotiations to join BRICS told Reuters no new members were expected to be admitted to the bloc during this summit.
The three-day summit concludes on Thursday.
For Jobs, Nigeria and foreign Scholarships, Admissions CLICK HERE
Watch What's Trending!