Court Discharges Restraining Order From Sacking Emefiele Over Presidential Ambition
TODAY'S NEWS RECAP
Court Discharges Restraining Order From Sacking Emefiele Over Presidential Ambition
Delta State High Court sitting in Kwale on Tuesday discharged an order restraining the Board of the Central Bank of Nigeria from removing Governor Godwin Emefiele over his intention to contest for the presidency on the platform of the All progressive Congress.
The court ruled in its ruling upturned and vacated an earlier order on 5th May.
Justice DC Maidoh last week had granted an order restraining the Board of Central Bank of Nigeria and Independent National Electoral Commission from stopping the CBN governor from aspiring from an elective post.
Armed with the court papers, Emefiele had gleefully approached President Muhammadu Buhari on Thursday after which he stated that Nigerians could die of a heart attack if he failed to leave office.
But on Tuesday in a fresh court judgment, the court set aside the judgment Emefiele relied on to perpetuate his stay in office.
Emefiele whose presidential ambition sparked controversy and many calling for his resignation to preserve the sanctity of the exalted office reacted that he was having fun and cared less about what people had to say after a closed meeting with President Muhammadu Buhari at the Presidential Villa in Abuja
Reacting to a report that the President had asked him to resign after the purchase of the presidential nomination and expression of interest forms of the ruling All Progressives Congress (APC), Emefiele said, "There is no news now, but there will be news. You heard me, I said there is no news but there will be news."
But when told that Nigerians were eager to know his position, he said: "Let them have a heart attack. It's good to have a heart attack. I am having a lot of fun."
Augustine Eddiego had approached the court asking, "An order restraining the defendants from treating the provision of section 9 of the Central Bank of Nigeria Act 2007 as amended as a bar on the Governor and Deputy Governor of the Central Bank of Nigeria from seeking political offices pending the hearing and determination of the motion on notice herein in this suit which borders on the interpretation and supremacy of the 1999 CFRN."
Section 9 of the CBN Act provides that "the Governor and the Deputy Governors shall devote the whole of their time to the service of the Bank and while holding office shall not engage in any full or part-time employment or vocation whether remunerated or not, except such personal or charitable causes as may be determined by the Board and which do not conflict with or detract from their full-time duties."
Justice Maidoh adjourned the case to May 25.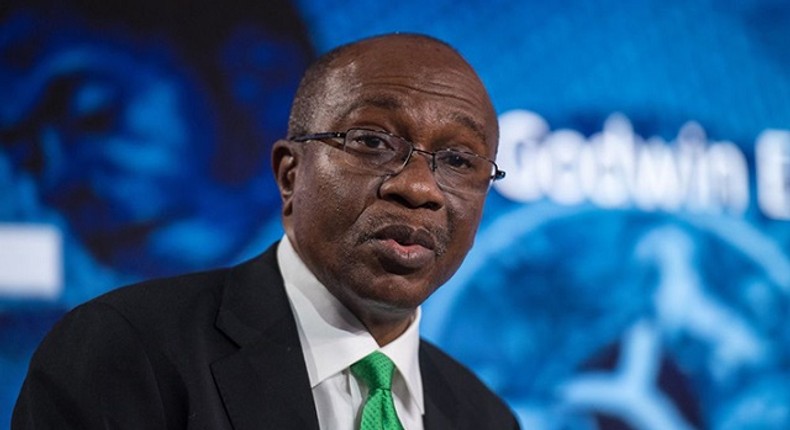 For Jobs, Nigeria and foreign Scholarships, Admissions Click HERE
For 
publication
 of your 
news content, articles, videos
 or any other news worthy materials, please send to 
afnewsng@gmail.com
. For 
more enquiry
, please call +234-903-332-9775 or whatsapp. To 
place advert
, please call +234-903-332-9775.
Mark 11 vs 22- 24:
And Jesus answered them, "Have faith in God. Truly, I say unto you, whoever says to this mountain, "Be taken up and thrown into the sea, and does not doubt in his heart, but believers that what he says will come to pass, it will be done for him. Therefore, I tell you, whatever you ask in prayer, believe that you have received it and it will be yours
Watch What's Trending!