CBN Refutes Alleged Devaluation Of Naira To N630 Per $1 | READ DETAILS
The Central Bank of Nigeria (CBN), has refuted reports that it has devalued the Naira to six hundred and thirty naira (N630) per one dollar($1).
Reacting to the alleged devaluation report which emerged from some section of the media (not AFNEWS), the CBN in a statement released on Thursday, June 1, 2023, and signed by Isa AbdulMumin, Acting Director, Corporate Communications, said the report is false noting that as at June 1, the exchange rate at the Investors' and exporters' window traded at N465 per US$1.
The statement read in part;
"we wish to state categorically that this news report which in the imagination of the newspaper (DailyTrust) is exclusive, is replete with outright falsehood and destabilising innuendos, reflecting potentially willful ignorance of the said medium as to the workings of the Nigerian Foreign Exchange market".
READ FULL STATEMENT BELOW: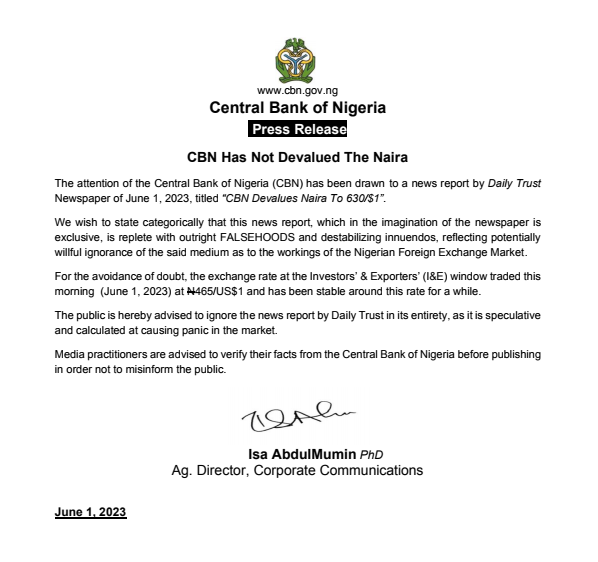 For Jobs, Nigeria and foreign Scholarships, Admissions CLICK HERE
Watch What's Trending!